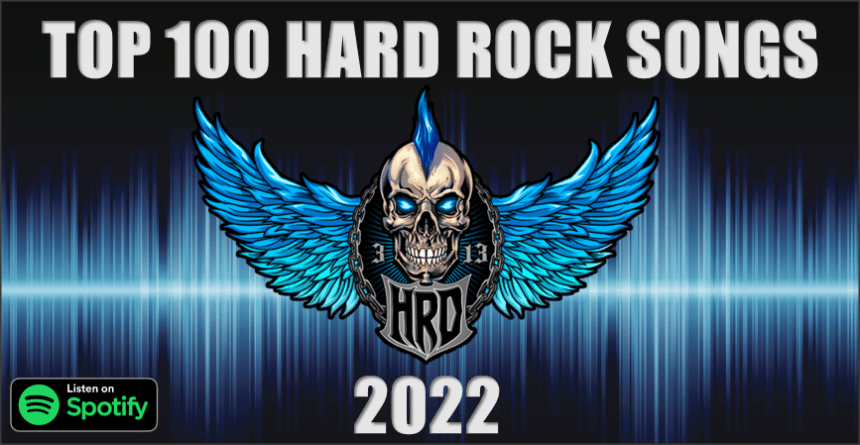 TOP 100 HARD ROCK SONGS OF 2022
The TOP 100 HARD ROCK SONGS OF 2022 is a comprehensive list of songs that spans all hard rock genres around the world (Active Rock, Classic Rock, Power Metal, Prog Rock, Punk, and beyond).
Our goal is to give readers the greatest possible variety of music. To do so, we limit this list to one song per artist. Closing with a well-known artist is by design, because the list is designed as much for flow as a continuous playlist as it is for rankings.
This is the first post of 2023, but there will be more to come! Please read Explaining Hard Rock Daddy's Radio Silence in 2022 for details about why there haven't been many posts since early in 2021. That is about to change with a new monthly radio column (details coming soon!). 
CLICK HERE to listen to Top 100 Hard Rock Songs of 2022.
***At the bottom of the page (beneath the reviews) is a listing of the songs in order***
[1]  HALESTORM – "The Steeple"
To many, music is as powerful as religion. It brings people together in a visceral, unique way. Unlike religion, which can be extremely divisive, music is the ultimate unifier. As someone who is more spiritual than religious, I can attest to the power of music. I have been a member of the congregation at a Halestorm concert, captivated by the preacher that is Lzzy Hale. 
You have to wonder if this killer tune would have ever been written without experiencing a worldwide pandemic. Hale masterfully conveys the joy of being able to once again lead her touring congregation. Just as she does in concert, Hale captivates with a presence that is virtually unrivaled in rock and roll today. Passion and power mixed with beauty and grace is a recipe for greatness. Halestorm continues to prove their greatness with "The Steeple." 
[2] DOROTHY – "Rest In Peace"
Hauntingly beautiful and poignantly poetic, "Rest In Peace" goes beyond your typical song about a breakup. Wearing her emotions on her sleeve, Dorothy's impassioned delivery is bold, defiant, and unambiguous. Too many people live in fear of burning bridges for fear that you won't be able to return to the place that you've left. But what if the place that you left was a hellscape that did nothing but bring misery and pain? Beyond fear of change and leaving a comfort zone, why would anyone ever want to return to such a place? 
As someone who has never been fearful of burning bridges and leaving the past behind, "Rest In Peace" speaks to me on a deep level. The message is even more powerful when delivered by the raw, angst-ridden beauty of Dorothy's voice.
[3] EVA UNDER FIRE (f. Spencer Charnas) – "Blow"
One of many outstanding tunes from the soundtrack to The Retaliators, Eva Under Fire's "Blow" is a high octane, tone-setter that gets your blood pumping and your adrenaline flowing. Like Lzzy Hale, Eva Marie's vocal style is a take-no-prisoners, in-your-face blend of beauty and power. It takes you back in time to the glory days or hard rock when lead singers captivated you with their presence. That's not to say the band's sound is a throwback. If anything, they are the perfect blend of the past and the present. 
Trading vocals with of the best singers in Active Rock today in Spencer Charnas, "Blow" is about as good as it gets when it comes to modern hard rock duets. Charnas has understandably been a guest vocalist on a number of songs, but for my money, this is the best one yet! Eva Under Fire is a band that is built to have staying power, even without any guest vocals. 
[4] DIRTY HONEY – "Another Last Time"
Numerous bands in recent years have tapped into the timeless sound of '70s hard rock. It can sound like a watered-down, poor man's version of the legends that came before them at times, but when it works, it's a thing of beauty. Dirty Honey has absolutely knocked it out of the park with the Zeppelin-esque, bluesy "Another Last Time." It's not just the '70s bluesy hard rock influence that makes this song so special. It also taps into the magic that Black Crowes were able to capture with their slower paced hit, "She Talks To Angels." 
Influences aside, Dirty Honey has something special going on with the vocals of Marc LaBelle. Gritty, soulful, and passionate, LaBelle is everything you look for in a band with this sound. Like John Paul Jones, Justin Smolian's bass parts will probably be underappreciated by the masses, but fully appreciated by those who pay attention to the nuances of a song. 
[5] ALTER BRIDGE – "Pawns & Kings"
Alter Bridge is not known for being overtly political, but "Pawns & Kings" is definitely meant to inspire thought about the current political climate that we're living in today's America. It is vague enough to not alienate any of the countless fans of one of the most underrated bands of all time, but thought-provoking just the same. Most importantly, they are delivering a message of preserving the ideals that this country was built upon. That is something that we should all be able to agree upon, despite the fact that we can't agree on the path that is taken.
Musically, "Pawns & Kings" delivers what we have all come to know and love from Alter Bridge. Intense, precision musicianship, soaring vocals, and beautiful melodies where the light and the dark intersect seamlessly and flawlessly. It's interesting that the band chose to make the title track the album closer. It instantly became one of my favorite album closers ever. 
[6] SHINEDOWN – "Daylight"
Inspired by the global pandemic that threw all of our lives into chaos, "Daylight" is a "meaningful portrait of a vital human connection" according to Brent Smith. He also stated that "We can't lose our empathy and courage towards each other, or our willingness to pick someone up if you see them on their knees, because there's gonna be a moment in time when you need someone to pick you up."
Having gone through the same struggles as many during the pandemic, I can see how this song resonates with the masses about a (hopefully) once-in-a-lifetime situation. However, having gone through my own personal situation this year with a scary diagnosis, the song resonates with me in a different way. Most notably, the following lyrics…
"It's amazing what the hard times can reveal…like who shows up, who walks away, and who's for real." I can assure you that the answer will surprise you if you're ever in this situation.
[7] EDGE OF FOREVER – "The Other Side Of Pain"
If you're a hard rock fan in Europe, you undoubtedly know the name Alessandro Del Vecchio. He is the driving force behind so much of the amazing music being released consistently by Frontiers Music Srl, the legendary Italian label that is almost single-handedly keeping the sound of '80s hard rock alive. Del Vecchio is a multi-instrumentalist, songwriter, and producer who has worked with many other Frontiers artists. Edge Of Forever is his personal project where he sings and plays keyboards. You'll definitely see other artists on this list that feature the work of Del Vecchio, but this one was my favorite of them all. 
"The Other Side Of Pain" takes you back in time to the glory days when a squealing guitar lick sent shivers down your spine. This hard-driving rocker is much deeper lyrically than many songs of a bygone era. I love the imagery created by the lyrics…
"Like the traveler, I've sailed on…through the seven seas of life I will find my destination, on the other side of pain." Incredibly poignant, especially for those of us that have navigated through turbulent waters in search of calmer waters.
[8] MOTIONLESS IN WHITE – "Masterpiece"
Unlike many bands who peak early, and then spend much of their career chasing the magic that they caught with their debut, Motionless In White continues to get better with each passing release. This is no slight whatsoever on their earlier work, but "Masterpiece" is an apropos title for this amazing song. Of course, if you pay attention to the lyrics, you realize that this song is hardly boastful. If anything, it is a journey into the self-deprecating psyche of Chris Motionless. 
According to Motionless…
"It took me many years to fully recognize that these are the types of songs that truly are the lifeblood of the relationship between the band and our fans. There is something really powerful and magical in being able to write a song that not only expresses your own deepest emotions and feelings, but to write something that may express the feelings of those who find it hard to articulate their own at times."
Who among us hasn't felt at times that our life is a collection of missteps? So often, we are our own harshest critics. Motionless "masterfully" shows us that we are not alone in these feelings of self-doubt. "Masterpiece," while tortured, somehow is simultaneously cathartic to listeners who relate to the messaging.
[9] SLIPKNOT – "The Dying Song (Time To Sing)"
In all honesty, I lean more towards Stone Sour and Corey Taylor's solo work because I think that he has one of the greatest voices in the history of rock and metal. For the most part, growling is not my thing, but there is something different about the way that Taylor channels pure primal rage with his growls. Plus, you can still understand what he's saying, and it is unique in its own way. Of course, "The Dying Song (Time To Sing)" also features the melancholic melodies that Taylor delivers like no one else can. The rage is understandable in this case. Taylor has discussed that it is about his loss of hope in humanity, and the current trend of people being mad just for the sake of being mad (especially in America). I have to admit that I've fallen victim to it myself, but after a while, it all becomes white noise. The truth is that if you're mad at everything then real problems have a hard time rising above the din to affect change.  
[10] METALLICA – "Lux AEterna"
When I first heard "Lux AEterna" debuted on The Howard Stern Show, it didn't really resonate with me. That's probably because I was listening to it through a tinny phone speaker at a low volume. Once the buzz started about the song later that same day, I gave it another listen cranked up through a speaker. What a difference! It instantly took me back to my early days as a Metallica fan (which dates back to the Kill 'Em All debut). It's understandable that bands will evolve over time and their sound will mature as life's circumstances change. For Metallica, they went from a thrash band filled with piss and vinegar to (arguably) the biggest rock act in the world. It's hard to channel that angst when you're living high on the hog. To their credit, Metallica turned back the hands of time with "Lux AEterna." If you didn't know their history, you might think that they were still a young, hungry thrash band after hearing this track. To an entire generation of Metallica fans, this journey back in time is a welcomed one.
[11] THE WINERY DOGS – "Xanadu"
This may sound hyperbolic, but the reunion of The Winery Dogs means much more to me than the reformation of Guns N' Roses in their current form. During their hiatus, there was no way to hear The Winery Dogs' music in a live setting. The same cannot be said for GNR. If you haven't experienced this brilliant power trio in concert, you are doing yourself an injustice. If they just got back together to tour, that would have been enough for me. But for them returning with new music brought another level of joy during what has been one of the most challenging years of my life. A year that had me scratching and clawing to find my own Xanadu in turbulent times.
From the first note of "Xanadu," The Winery Dogs do what they do like no other band around. They hook you in with a groove that instantly makes your head bob and your feet tap. There is beautiful chaos to their distinctly frenetic hooks. It's as if all three members are soloing while playing in perfect synchronized harmony. Their musicianship alone would make you stand up and take notice, but it's their brilliant songwriting and chemistry that makes you want to just hit replay over and over again. 
[12] THE RETALIATORS – "The Retaliators Theme (21 Bullets)"
Written by Nikki Sixx and James Michael, the theme song to the Better Noise move of the same name also features the vocals of  Danny Worsnop (Asking Alexandria), Spencer Charnas (Ice Nine Kills), and Matt Brandyberry (From Ashes To New). When it comes to collaborations, Sixx and Michael have a magic touch to create something special that allows each vocalist to shine. These parts are already top-notch, but the whole is still greater than the sum of the parts. This duo achieved the same outstanding results with "Maybe It's Time," which also featured a number of the top vocalists in rock. Given that Sixx:A.M. was formed as a band to create the soundtrack to The Heroin Diaries, it's no surprise that they have a theatrical flair to their work. Through the underlying darkness that is necessary for a horror movie theme song, shines the bright and powerful melodies of singers who all have the ability to go from light to dark seamlessly. It's hard to think of another soundtrack in recent years that comes close to this one, and the title track is a big reason why that is.
[13] QUEEN – "Face It Alone"
Originally recorded in 1988 during the sessions for The Miracle, "Face It Alone" was finally released over three decades later. You have to wonder how a track this good didn't make the cut back in 1988, but that's neither here nor there. Maybe it's because it is a different kind of song than the typical Queen sound which relies heavily upon brilliant four-part harmonies. This masterpiece is basically just the Freddie Mercury show. The sparse musical arrangement is merely the canvas for Mercury to paint with unrivaled vocals. Interestingly, the opening of the song has a moody tone-setting quality that is similar to Iron Maiden's "Fear Of The Dark." It doesn't take long for Mercury to mesmerize you with his voice. Though Brian May's signature leads are present, and add a nice accent, "Face It Alone" is the type of song that you just let wash over you vocally. To say that this song is timeless would be a tremendous understatement, given that it has been collecting dust since 1988. 
[14] SLASH f. MYLES KENNEDY & THE CONSPIRATORS – "April Fool"
The opening of "April Fool" has a definite early Guns N' Roses vibe. If this was a GNR tune, it would undoubtedly be something totally different, probably in the same vein as some of the tracks off of Appetite For Destruction and Use Your Illusion. However, when collaborating with Myles Kennedy, Slash's work always takes a different turn that makes it unique to this project. Though this duo keeps busy with GNR and Alter Bridge, something special happens every time that they come back together to write. When discussing "April Fool" with Classic Rock magazine, Kennedy stated…
" 'April Fool' has a certain swagger. That's another one of my favorites. Lyrically, it's a song about playing the fool no more and having the last laugh at the end of the day. From a musical perspective, it's just a cool vibe." 
[15] FOO FIGHTERS – "Love Dies Young"
It's no secret that Foo Fighters are big fans of Queen. The intro to "Love Dies Young" feels like an homage to Queen's "Keep Yourself Alive." But the similarities end there. Though it's subtle, after the intro, there is a hint of '80s new wave that is layered throughout the song. Of course, they could play over any music bed and still sound like the Foo Fighters because they are one of the most distinct bands in rock today. 
It's been refreshing to see Dave Grohl appearing in different places to perform live. After the loss of his best friend and bandmate, Taylor Hawkins, earlier this year, I wasn't sure what would become of Grohl and Foo Fighters. They have become one of the most important bands in rock today, and it would be a shame if they don't continue on (albeit with a tremendous void). Grohl has come back before from a devastating loss, so hopefully, he will do so again.
[16] THE OFFSPRING – "Behind Your Walls"
When you think of bands that have had a career that spans more than three decades, The Offspring is probably not the first band that comes to mind. Though only two of the members have been featured on all ten of the band's albums (Dexter Holland and Noodles), the sound that originated with their debut album in 1989 remains. 
"Behind Your Walls" goes beyond the realm of pure skate punk with a more nuanced, mature sound. The slower, more moody opening sets the tone for the more traditional, high-energy tempo that the band is known for. It was a long gap between albums for The Offspring, but the decade-long wait was worth it. This may sound like sacrilege to lifelong fans, but "Behind The Walls" has become my favorite song by the band. 
[17] OZZY OSBOURNE – "Mr. Darkness"
The theme of "Mr. Darkness" has been tackled before at the beginning of the millennium with Eminem's "Stan." Both songs are written from the perspective of a diehard fan that believes that there is a connection to the artist that doesn't exist. "Mr. Darkness" is about the Prince of Darkness, but the subject is also dealing with their own inner darkness. 
When I saw that Zakk Wylde was featured on the song, I anticipated a nostalgic journey back to the sound that this duo created together for years. If anything, this picks up in the direction that Ozzy has been headed in recent years. Wylde fits right in, but still exhibits some of his signature sound with squealing riffs. Wylde has never been shy about proclaiming his love of Black Sabbath, and that comes through in "Mr. Darkness" as well at times. 
Despite dealing with age and physical ailments, Ozzy continues to release outstanding music that feels as timeless as his earlier work with Sabbath and his solo career. 
[18] SCORPIONS – "Seventh Sun"
In February of 1972, Scorpions released their debut album, Lonesome Crow. Fast forward 50 years to February of 2022. The band released their 19th studio album, Rock Believer. In between their debut and their current album, Scorpions have only released quality albums. Their longevity in and of itself is remarkable. To have never had an album that was a letdown is almost impossible to believe. Of course, this is all a matter of opinion, but for my money, Scorpions are the only band to have achieved this distinction.
Klaus Meine has one of the most distinct voices in rock history. At the age of 74, he still sounds the exact same as he did 50 years ago. It's kind of mind-boggling when you think about it. But it's not just Meine's voice that has stood the test of time. The whole band is still outstanding as performers, but more importantly, as songwriters. Most bands with any kind of longevity have down moments with songwriting. Life circumstances probably have a lot to do with that. To their credit, Scorpions have never chased current trends, but also never fell into the trap of churning out the same songs over and over again. 
"Seventh Sun" is vintage Scorpions, but doesn't sound like anything else that they've recorded over their illustrious career. It's safe to say that, in the current musical climate, there will never be another band like Scorpions again. 
[19] ARANDA f. VERNON REID – "Pay For"
Far too many bands these days color inside the lines in an attempt to carve out their little slice of the rock radio pie. Aranda, on the other hand, not only colors outside the lines, they create their own colors. Being formulaic and having a sound that fits in a tidy box may have its benefits when it comes to garnering radio play, but approaching music from a place of passion like Aranda does makes things far more interesting. Their style is unique, and almost impossible to pigeonhole. The funky, soulful groove (courtesy of Living Color's Vernon Reid) is simultaneously fresh sounding, and comfortably familiar if you love '70s hard rock. Aranda doesn't try to be anyone else. They just write great songs and let the chips fall where they may. Kudos to them for not chasing trends and just being who they are!
[20] alltheprettythings – "Teenage Lines"
Some songs grab you from the first note. Other songs take time to grow on you and get better with each listen. For newcomers alltheprettythings, both of the aforementioned statements are true. The first time that I heard "Teenage Lines," I knew that this band was onto something. As I listened to the song over and over again, it just kept getting better! That is the sign of a great song. Whereas many modern rock bands lean heavily on screams to convey emotion, alltheprettythings displays beauty, melancholy, and angst without ever relying upon the crutch that too many rely upon these days. As the saying goes, "always leave them wanting more." If their debut single is this good, I can't wait to see what comes next from alltheprettythings. If the rest of their album is as good as "Teenage Lines," this will be a band with staying power!
[21] NOTHING MORE – "Tired Of Winning"
The phrase "tired of winning" made its way into the consciousness of Americans back in 2016, but not necessarily in a way that many appreciated. With Rage Against The Machine sensibilities, Nothing More's "Tired Of Winning" is far more thought-provoking and interesting than the way the phrase was used in the past. 
When discussing the inspiration behind "Tired Of Winning," singer Jonny Hawkins stated… "We find ourselves in the same position humanity has found itself over and over again… at the end of a series of self made problems. When we wake up to this, we realize that we are our own worst enemy, yet we focus so much of our energy on externalizing our problems. This song is a bird's eye view of human nature."
Human nature has always created problems, but the advent of social media and the 24/7 news cycle has only served to throw gasoline on the fire and exacerbate our problems. "Tired Of Winning" tackles this issue in both musically and lyrically powerful ways.
[22] COREY TAYLOR – "On The Dark Side"
As brilliant as Corey Taylor's original work is, he is equally adept at taking already great songs and making them even better. There is a true art to making cover songs your own, and Taylor is as good as anyone in rock and doing so. The original version of "On The Dark Side" had an underlying darkness to it. You would think someone who knows how to tap into darkness like Taylor would take things in that direction, but he takes the opposite approach. There is true joy in this cover that stays fairly true to the original, but with a few twists. Taylor seamlessly incorporates snippets John Mellencamp's "R.O.C.K. in the U.S.A." and Neil Diamond's "Cherry, Cherry" into the song, but not in an obvious medley type of way. It just feels like it was part of the original. This song has always held a special place in my heart for various reasons, not the least of which is my love of the movie Eddie and the Cruisers (one of the greatest rock and roll movies of all-time).
[23] ANY GIVEN SIN – "Still Sinking"
When I first discovered in 2018 with their hit single, "Dynamite," I was drawn to them because of the similarity to Shinedown. That may have been the initial introduction, but since that time, Any Given Sin has become one of my favorite artists on the scene today. They consistently release quality songs that appeal sonically to the arena rock that I grew up on. In fact, I think that they would shine most in an arena setting, whereas many modern bands feel like they are built to play in clubs (when they are not playing festivals with tons of other bands). "Still Sinking" is another in a line of radio friendly songs that has mass appeal without sounding like so many other active rock bands. Hopefully, they will have continued success and eventually follow along the path that Shinedown blazed years ago. 
[24] DISTURBED (f. ANN WILSON) – "Don't Tell Me"
As much as I love the angry, piss and vinegar styling of David Draiman on Disturbed's heavier songs, there is something incredibly haunting about his voice when he dials it down a notch. There is still visceral emotion, but the emotion is more melancholy than anger (like he displayed on "Sound Of Silence"). One of the greatest singers of this generation paired up with one of the true female legends of the '70s and '80s in Heart's Ann Wilson is a stroke of genius. This duo complements each other perfectly as they showcase their passionate voices without making it feel like an emotive competition. Draiman has provided guest vocals before, but for my money, this is his best duet yet. 
[25] THE PRETTY RECKLESS – "25" (Acoustic)
Technically, "25" is a song from 2020, but the acoustic version was just released this year on The Pretty Reckless' 2022 release, Other Worlds. The original version is brilliant, but I love the acoustic version even more. There is no doubt that Taylor Momsen has elevated herself to being one of the best singers in rock today, but this may be her greatest moment so far. This song showcases everything that she has to offer, power, angst, sweet tenderness, and pure cinematic emotion. The acoustic version of "25" feels like it was ripped out of the dramatic, pivotal scene of a movie. There is so much to love about the dynamics of this song. The juxtaposition of edgy and soft and dark and light is nothing short of brilliant. There is a maturity that goes way beyond the years lived in this song. 
[26] SAMMY HAGAR AND THE CIRCLE – "Father Time"
It's no secret that father time catches up to all of us at some point, but we tend to compartmentalize and bury that thought in the corners of our mind. In our youth, we never even consider our mortality. As the years go by, we have no choice but to face the fact that the sands of time are racing through the hourglass. 
Sammy Hagar singing "Father Time" is bittersweet. It's an autobiographical reflection that looks back on his life. Though he sings about the joy that he's had, and continues to have, you can tell that there is a sobering realization that this is a race that even the Red Rocker will eventually lose. 
This song really makes you feel how fast time passes by. I can still remember discovering Hagar in 1982 like it was yesterday. Here we are over four decades later in what feels like the blink of an eye. Thankfully, Hagar is still at the top of his game. As the song poignantly states…"it ain't over yet!"
[27] NICKELBACK – "Those Days"
Nickelback finally started to get a modicum of respect this year when they released "San Quentin." It's mind boggling that it took a heavier song like that to tamper down the hate of a band that never deserved it in the first place. As good as that song is, I prefer "Those Days" as my favored track between the two.
Back in 2005, Nickelback released one of the most heartfelt nostalgic songs ever with "Photograph." Like "Photograph," "Those Days" paints a mental picture that takes you on a joyfully nostalgic journey (for those of us that can relate to the references). It makes you long for days gone by, and the simpler times of a world where weren't all connected digitally, but have grown further apart emotionally. 
"Those Days" features the classic Nickelback sound that people love to outwardly hate, but many secretly love based on the band's continued success. 
[28] STEEL PANTHER – "1987"
Steel Panther may have started out as an over-the-top homage to all things '80s, but over the course of their career, they have grown into a band that just seems like they were dropped into the future to remind us about how good things used to be. They don't take themselves too seriously, as evidenced by their tongue-in-cheek lyrics that fully embrace the sex, drugs, and rock n' roll lifestyle. They are the personification of '80s decadence and glory.
"1987" has plenty of lyrics that bring a smile to your face, but at its core, the song is a nostalgic masterpiece that captures the spirit of a year that many of us look back on with starry eyed nostalgia. The thing about nostalgia is that you can't fully appreciate it until years have passed. We just lived in the moment back then, and couldn't really grasp that things wouldn't be like that forever at the time. Although I miss those days, I am thankful that I got to experience them firsthand.
[29] TUK SMITH & THE RESTLESS HEARTS – "Ballad Of A Misspent Youth"
Former Biters frontman, Tuk Smith, is onto something special with his latest project. This is pure, fun, timeless rock and roll that sounds like the lovechild of early KISS and Motley Crue. That is not to say that "Ballad Of A Misspent Youth" sounds derivative, just that it pays homage to two of the most influential bands of a generation. It's no surprise that this band was added as an opener on the Motley Crue/Def Leppard stadium tour. They are a perfect fit. A throwback to a time when there was an unapologetic swagger in rock and roll. We could use more bands like this with a fresh sound that is rooted in the glory days of rock and roll, yet never trying to be a reincarnation of bands of the past. 
[30] STEELHEART – "We All Die Young"
Just around the turn of the century, one of the greatest (if not the greatest) rock and roll movie was released. Rock Star featured the music of Steelheart, albeit under the moniker of the fictional band, Steel Dragon. The frontman of the fictional band, Mark Wahlberg, seemed to be hitting these ungodly notes. But the real voice behind those notes was Miljenko Matijević, who is known for a range that most can only dream of. 
"We All Die Young" was re-recorded for Steelheart's 30th anniversary album. This version doesn't stray very far from the original, which is exactly what makes it so spectacular! Matijević is still hitting those ungodly notes at the age of 58. It's as if the Croatian singer has been frozen in time. There is only one other vocalist that I've personally experienced that is hitting those kinds of notes at this age – Glenn Hughes (known as "The Voice Of Rock"). 
[31] UGLY KID JOE – "Lola"
It's hard to believe that 30 years have passed since I discovered Ugly Kid Joe with their inspired cover of Harry Chapin's "Cats In The Cradle." There was a pretty large gap in the band's history, so I have to admit to losing track of them for a while. Although frontman Whitfield Crane was featured on the top hard rock songs of the year when he did an incredible duet with Myles Kennedy. 
"Lola" was the song that introduced me to The Kinks back in the day. Those were the days of naivety, back when I had no idea that Freddie Mercury was gay or that this song was about transvestites (which no longer seems to exist in today's PC lexicon). But there is no sense in whitewashing history since this song was written in 1970. 
As they did with "Cats In The Cradle," Ugly Kid Joe has once again taken a classic song that is loved by the masses and made it their own. This time, they played it a bit closer to the vest and kept it more similar to the original, but it is still a great song. "Lola" is one of those songs that has always been a personal favorite. This cover just brought back happy memories of my youth.
[32] CROBOT – "Golden"
It took several listens to make me realize what Crobot's "Golden" reminded me of. Because the song has an uplifting, happy vibe, it took me a while to catch the similarity to a few of my favorite bands of the grunge era, Soundgarden. There is a palpable underlying angst to the song, but like Chris Cornell was able to do with songs like "Sunshower," Brandon Yeagley does a masterful job of framing that angst with beauty and grace. 
It wasn't until I started doing research for this review that I found out that that song was actually inspired by Cornell. 
Yeagley stated that " 'Golden' is a soaring homage to a God-gone-too soon. When it came to the lyrics, we collectively wanted it to be a tribute to Chris Cornell.  We are so influenced by everything he and Soundgarden have done. We ran with the song in honor of his legacy."
Given that I was able to feel the Cornell vibe without knowing the meaning of the song, I'd say that Crobot's mission was absolutely accomplished with this killer tune!
[33] RISE AGAINST – "Talking To Ourselves"
Although Rise Against's sound is not the angry, aggressive sound of the early days of punk, their messaging certainly is, even if it is delivered in a more melodic way.
In an interview with Kerrang, Rise Against frontman Tim McIlrath discussed "Talking To Ourselves"…
"This song was an accidental way of not only talking about Rise Against, but also anybody that does something like we do, anyone who feels like they're standing in a crowd, trying to get everyone to pay attention and no-one's doing it. Either they're not doing it, or they're just placating you, like, 'Oh, how adorable, he's angry!' Sometimes you end up just feeling like an entertainer, like, I guess this is just a transaction – this is your Friday night.' When it feels like that, it's so sad, it's like,'That's not why I got into this, this isn't punk rock – why didn't I just become a magician or juggler? This is supposed to be something more.'"
As someone who really pays attention to lyrics, "Talking To Ourselves" speaks to me in a visceral way. Too often these days, trying to rise above the din of constant noise (mostly online), you can feel simultaneously connected and disconnected. If everyone has a friction free soapbox, then no one really does. It's all just white noise at some point, which is unfortunate for those who really have something powerful to say. Musically, this song feels like it would be the perfect intro to a movie. I'd share more, but I may use it myself in the future.
[34] PAPA ROACH – "No Apologies"
Jacoby Shaddix has never been one to shy away from wearing his emotions on his sleeve. That's part of what makes Papa Roach so appealing, and why the band has had such a steady career. Shaddix has a way of tapping into the frustrations that so many of us have. He lets you know that you're not alone, and that others are going through the same things. Even those who seem to have a dream life when looking at it from the outside.
"No Apologies" is another in a long line of powerful anthemic songs that Papa Roach has released over the years. The subject matter in this case is the strained relationship that Shaddix has with his father. He wrote these lyrics as a sort of letter to his biological father, to forgive him for the past and let him know that he loves him, and doesn't need any apologies for the past. 
[35] VOLBEAT – "Temple Of Ekur" 
Thematically, Volbeat is the modern day Iron Maiden. They make learning about history interesting for those of us who didn't really enjoy learning in school. "Temple Of Ekur" takes you once again on a journey to ancient times. Because Michael Poulsen's unique delivery is so emotive, he makes you feel like every lyric is personal to him, even though this is basically a mini history lesson.
Always upbeat and melodic, almost to the point of having a danceable vibe, Volbeat has a unique way of infusing a bright feeling into songs with heavy riffs. "Temple Of Ekur" has riffs that are reminiscent of the early days of thrash, which makes sense given that Rob Caggiano's roots are with Anthrax. So many bands today have a similar sound, especially on active rock radio. One band that you never confuse with anyone else is Volbeat because of their originality. 
[36] STRATOVARIUS – "Glory Days"
With a career that dates back to 1985, Finnish power metallers Stratovarius have released 16 studio albums, yet they remain unknown to many hard rock fans in the U.S. because there is no natural radio outlet for their style of music. It's too bad, because so many are missing out on one of the best bands in the genre. 
Unlike Bruce Springsteen's song that shares the same title, Stratovarius' "Glory Days" have nothing to do with nostalgia. This power metal anthem is referring to the glory days that come from emerging victorious after a lengthy battle. Soaring vocals, vicious shredding, dual guitars, layered keyboards, and thunderous, heart-pounding drums has the potential to cause whiplash from headbanging to the beat. You've been warned!
[37] SABATON – "Stormtroopers"
When you first listen to "Stormtroopers," you would swear that this was German power metal given the influences of Rammstein and Accept, but Sabaton is actually a band hailing from Sweden. This high octane battle cry makes you want to strap on your gear and 
head to the frontlines. 
The introduction of "Stormtroopers" feels like a tone-setting song that gets played in American sports stadiums and arenas to fire up the crowd. As the song progresses, you hear the familiar influences of classic songs like Metallica's "Fade To Black" and Accept's "Balls To The Wall." It's fast; it's furious, and you'll find yourself leaving all of the worries of the world behind you as this song washes over you.
[38] HOLLYWOOD UNDEAD – "City Of The Dead"
Perhaps more than any city in the U.S., Los Angeles is thought of as glamorous. The city of the angels makes it literally sound heavenly. Parts of it are for those living the high life, but for many others, there is a darker side that doesn't live up to the hype from outsiders. 
According to Hollywood Undead's Johnny 3 Tears, " 'City Of The Dead' is a darker anthem for the band,pulling back the glitz and glam of Los Angeles to show the seedier side of life in Tinsel Town. It's about the dichotomy of Los Angeles where you can accomplish your dreams but also live your nightmare."
For every dreamer who found success after moving to Los Angeles, there are thousands who were chewed up and spit out by the city of the angels. "City Of The Dead" does an outstanding job of capturing the yin and yang of glam and the dark underbelly of a place where dreams often die on the vine. Although I've never lived there (despite Californication wanderlust), I have spent enough time there to know that this song hits the nail on the head. 
[39] BLACK VEIL BRIDES – "Saviour II"
Black Veil Brides has one of the most dedicated fan bases in rock today, and there is a good reason why. Their connection is built upon sharing vulnerabilities in a sincere way, to a point where their music is almost therapeutic. 
In 2011, they recorded "Saviour" for the BVB army. They let their fans know  how much they appreciate them, and that they, and their music, will be there for them during their darkest time. "Saviour II" picks up where "Saviour" lets off.
"In the early days of the band, our song 'Saviour' was written as a love letter to them, a chance to say we appreciate you and want to do right by you," Black Veil Brides frontman Andy Biersack stated. 
"As the years go by and lives and times change, the one thing that has always been a constant is that connection with our audience and while we are just musicians making records, we always want to do our best to provide entertainment, escapism and inspiration to the people who have given us this platform and this song is a chance to reaffirm that message."
[40] ASKING ALEXANDRIA (f. WITHIN TEMPTATION) – "Faded Out"
"Faded Out" originally appeared on Asking Alexandria's 2021 release, See What's On The Inside. The band re-recorded it with Within Temptation's Sharon den Adel this year. It is yet another great track from The Retaliators (the best soundtrack album to come out in recent memory). Adding den Adel to the mix took the song to another level. Appearing on a movie soundtrack is about as close as this song comes to anything resembling Hollywood, where stories usually strive to have a happy ending.
"Faded Out" is a painfully honest peek into the life of someone with crippling depression. You can feel the tension as the song builds, and the storyline describes the desire to feel alive, to feel something to make life worth living, and searching for the old version of themselves who felt that way. It's a cry for help that never resolves itself with an answer. It just "fades out." Powerful, thought-provoking, and relatable to many.
[41] WEAPONS OF ANEW – "Break The Ties"
"Break The Ties" is the first single released with Weapons Of Anew's singer, Richie Hume. The song came about when guitarist Freddy Ordine got together with Logan Mader from Machine Head while the bands were on tour together. 
"I couldn't be happier with how this song came together and turned out," stated Ordine. "It had our New York attitude and Logan's west coast vibe. We really nailed the direction I wanted to take Weapons in! Logan was just amazing to work with!"
"'Break The Ties' is about cutting away the bad and being in a more together space with everything." The end result is something interesting and dynamic. Rather than creating a wall of sound, the band lets the song breathe with an almost tribal groove beat powering the way between heavy riffs and melodic harmonies. Though it has a modern sound that fits perfectly on active rock radio, parts of the song sound like they are rooted in the past as Hume's vocals bear a striking resemblance to Ozzy Osbourne. 
[42] THE DEAD DAISIES – "Not Human" 
The Dead Daisies are a group like no other band in rock today (or the past for that matter). There have been supergroups in existence for several decades, but most have a fairly short lifespan by way of comparison to other bands (especially in modern times). Making things even more challenging is the fact that this is a music collective, a revolving door of outstanding musicians who are part of the band for a moment in time. Including the current incarnation, there have been 21 members of the band over the course of five studio albums. 
As diverse as the band is, they still manage to be at the top of the rock and roll food chain with a sound that continues to evolve based on the personnel. That being said, any band that features Glenn Hughes as the frontman becomes his work. His style is so unique, and his presence looms large. At the age of 71, Hughes sounds exactly like he did in his early days. Technology can enhance vocals these days, but I can tell you that I saw him in concert a few years back, and he was absolutely flawless. It was one of the most jaw-dropping live vocal performances that I've ever encountered. His poetic touch on "Not Human" further showcases his brilliance! 
[43] KRIS KARRAS BAND – "My Parade"
When I first heard "My Parade," it seemed like a battle cry, and not just because of the lyrical content. As I did more research on the British singer/guitarist, I found that he was a professional MMA fighter. That warrior mentality bleeds through into every moment of this catchy anthem.  
While it's not quite as vitriolic as Sex Pistols' "Anarchy In The U.K.," you can tell that this song was aimed at the powers that be. If you just let the song wash over you without dissecting the lyrics, it feels like it was written to be blasting through the speakers of a stadium during a live sporting event. 
[44] AUDIO REIGN – "Shining Light"
I discovered Australia's Audio Reign back in 2017, but not by chance. Jake Fleming, the band's frontman and rhythm guitarist reached out to me directly to turn me on to the band's music. It's hard to believe that much time has passed already, but here we are five years later. 
Knowing the band's sound, I was surprised to hear an emotive power ballad when I first listened to "Shining Light." But it wasn't like any other power ballad that I've heard before. Although it's a love song that starts out slower and gradually builds into a rocker, "Shining Light" hits you in a deeper way. It's a nostalgic love letter with a touch of melancholy that stirs emotions with the repeating noodling guitar under the verse.
Beautifully poetic throughout, when the song hits the crescendo and gets heavy, it still stays impassioned, yet vulnerable. The guitar solo weeps. Wearing his emotions on his sleeve, Fleming makes his feelings known in a touching way…"I am yours, you are mine…my shining light."
[45] COHEED & CAMBRIA – "The Liars Club"
There was a time when lying was looked at as a negative by the masses. White lies to protect the feelings of others were always acceptable, but outright, bold faced lies were shunned. It's hard to remember those days at this point, as lying somehow has become a launching pad into leadership positions (at least in the United States). We've become a society that leaves facts open to interpretation. It's hard to fathom how we got to this place. Thankfully, there are storytellers like Coheed & Cambria that allow us to escape the madness of reality to enter a virtual world.
When discussing "The Liars Club," vocalist/guitarist Claudio Sanchez stated…
"When the truth is such a mess, who doesn't want to live out a different reality? Who doesn't want to embrace a lie?"
Though the lyrics are not exactly positive, Coheed & Cambria have a way of making you feel good in spite of it all. Coming from the band that brought us "Jesse's Girl 2," it's no surprise that there is a palpable '80s joy to "The Liars Club." That, along with the skate punk vibe, makes this one of the more fun songs of the year.
[46] BLACK SWAN – "Generation Mind"
When it comes to forming supergroups from '80s rock legends, no one does it better than Frontiers Music Srl. An entire generation should be grateful for Serafino Perugino and Frontiers for keeping the music that so many of us grew up on alive and kicking. It would be one thing to just release music from '80s musicians, but creating new, meaningful music is something special. 
Black Swan features Robin McCauley (vocals), Reb Beach (Whitesnake, Winger) on guitar, Jeff Pilson (Dokken) on bass, and drummer Matt Starr (Ace Frehley, Mr. Big). This quartet has discovered lightning in a bottle with a sound that is simultaneously fresh and nostalgic. 
Songs like "Generation Mind" don't really have a home on radio in the U.S., but thankfully, radio is no longer the only medium for people to discover great new music.
[47] GENERATION RADIO – "Lights Go Out In Paradise"
Having grown up in the '80s, I am nostalgic by nature. I'm not too proud to admit that I'm also a fan of romantic comedies. The stories are predictable, and never really resemble what real life love looks like, but it's an escape. Hollywood has an incredible way of making the simple moments seem special. 
Generation Radio's "Lights Go Out In Paradise" paints a mental picture that feels like the musical version of a romantic comedy. The setting is idyllic…two young lovers making love outdoors under the stars beneath an old apple tree on a warm night. Perfect love loses its luster and the two young lovers part ways, but the spark is still there. It's a nostalgic journey that makes you long for days gone by. For me specifically, it takes me back in time to the fall of 1986, when Triumph released The Sport Of Kings album. "Lights Go Out In Paradise" feels like a lost track from that album. If you're a Triumph fan, you will definitely appreciate this song.
[48] CHEZ KANE – "(Things We Do) When We're Young In Love"
Growing up, Pat Benatar was one of my favorite singers, and definitely my favorite female artist by a wide margin. In my autograph book at the end of elementary school, there was a page to list your favorites. I chose Pat Benatar's "Heartbreaker" in a tie with Tom Petty's "Refugee" as my favorite songs. Over four decades have passed since then, and I still love both of those songs. 
Chez Kane's "(Things We Do) When We're Young In Love" brought me back to those days, both lyrically and musically. My recent experiences have made me long for those days more than ever. There is a powerful sweetness to Kane's voice that is similar to Benatar's (who just turned 70 recently). Still one of my favorites of all-time, Kane's music makes me feel that she can carry the torch going forward.
[49] URIAH HEEP – "Save Me Tonight"
Is it possible for a band to have released 25 albums over the course of over 50 years and still remain somewhat under the radar? For most bands, that would not be possible, but Uriah Heep is the exception to the rule (at least in America). Though they have had their fair share of hits, only two of their songs are staples of classic rock radio in the U.S. – "Easy Livin'" and "Stealin'." 
Guitarist Mick Box is the only remaining original member of the band, but vocalist Bernie Shaw and keyboardist Phil Lanzon have both been in the band since 1986. There are only a handful of bands still in existence from the late '60's/early '70s. Most of those are household names with a catalog of songs that are known by the masses. Uriah Heep may not have that same luxury, but they continue to create meaningful music just the same.
"Save Me Tonight" is a high energy rocker that features the distinct sound of the Hammond organ. Because of that, and the overall vibe of the song, it conjures up shades of Deep Purple (in a good way). 
[50] AVANTASIA (f. JORN) – "I Tame The Storm"
Can you be in a genre all by yourself? Maybe not entirely, but Avantasia is billed as "a German supergroup metal opera project." That is a pretty specific subset of hard rock. Like another unusual hard rock act, Apocalyptica, Avantasia relies heavily upon guest vocalists to create their brand of music. If you're going to be using a guest vocalist in Europe, is there anyone better in hard rock than Jorn Lande? This Norwegian rock star is as good as it gets, yet his fame still seems to be mostly contained across the pond. Had he been born a few decades earlier, there is no doubt in my mind that Jorn would have been a household name in rock. Still, his work is consistently inspiring.
"I Tame The Storm" opens with a thrash intro that is Metallia-esque, before Jorn kicks in with vocals that are reminiscent of the early days of Iron Maiden after Bruce Dickinson joined the band. It's no secret that Ronnie James Dio is one of his greatest inspirations. While this song doesn't have a Dio feel, the lyrics are very much in RJD's wheelhouse. Interesting and cryptic with a message that is not easily deciphered. But it doesn't matter. You just accept it at face value and accept it for what it is.
[51] JORN – "Over The Horizon Radar"
If one song featuring Jorn on this year-end list is good (see "I Tame The Storm" above), then two songs featuring one of the greatest, most underrated vocalists in hard rock today is even better. 
From his 15th studio album since the turn of the millennium, "Over The Horizon Radar" is the title track off of Jorn's latest release. Intense at the onset, it has a vibe that is reminiscent of 1980s Deep Purple tinged with a hint of Iron Maiden. As the song progresses, there is a moody break that slows things down to a more somber moment like Metallica's "Fade To Black." 
Though his influences shine through in his songs, Jorn is far from derivative. He is the quintessential power metal singer, with soaring vocals and passion that is virtually unrivaled.
[52] GIRISH AND THE CHRONICLES – "Clearing The Blur"
When you think of bluesy hard rock, India is probably not the first place that comes to mind. But hard rock is universal and comes from all corners of the world. The third studio album by Girish And the Chronicles (GATC) entitled Hail To The Heroes was released in 2022. This is the follow-up album to 2020's Rock The Highway, which helped the band garner international attention. 
"Clearing The Blur" sounds like the lovechild of Whitesnake and Journey. More specifically, "Anyway You Want It." Girish Pradhan's vocal style is gritty and soulful, much like the legendary David Coverdale. Without sounding like a throwback band, GATC manages to thread the needle between modern times and the glory days of '80s hard rock with "Clearing The Blur."
[53] DREAM THEATER – "Transcending Time"
With the exception of their big hit, "Pull Me Under," most of Dream Theater's work is too complex for traditional radio. They've always been known as musicians' musicians and thinking man's metal. Fans who love prog bask in the glory of all of the band's catalog. It's not meant to be easy listening. Musically and lyrically, their music is meant to peel back the layers. Because of the complexities, it takes time to do so, but that's what makes it so good.
"Transcending Time" has plenty of layers to peel back, and does follow the band's typical approach, but it feels like one of their more accessible songs. Not quite as straight forward as "Pull Me Under," but there is a noticeable Rush influence that gives this mainstream appeal. Also a bit of the early days of Styx when they were more progressive.
[54] RONNIE ATKINS – "Make It Count"
The first time that I heard Ronnie Atkins sing was with Pretty Maids back in 1987. I was instantly blown away when I saw the video for "Future World" on MTV. Pretty Maids released their last album in 2019. That was the year that Atkins was diagnosed with lung cancer. After extensive treatment, he was cancer free for a brief period, but it came back in 2021 (the year that he released his first solo album). 
Atkins has stated that he takes a significant amount of medication to deal with the pain manageable. He also frankly discussed that he lives his life in three month intervals from scan to scan. Up until this year, I sympathized with his plight. Earlier this year, my sympathy turned to empathy (see Hard Rock Daddy Radio Silence for details). The drama has carried over to 2023. Ironically, more bad news (less so though) came while I was writing this review.
Ronnie Atkins has perfectly shined a light on the fragility of life and of what's really important with "Make It Count." There is so much to love about this song from both a messaging and musical standpoint. This song hit home for me more than any other in 2022.
[55] GOODBYE JUNE – "Three Chords"
Goodbye June is a band that does an amazing job of tapping into the roots of classic rock and making it their own. Unlike some bands who aim to sound like the next version of a classic band, Goodbye June has a great deal of versatility. "Three Chords" is a song that tells a story that pays homage to the elder generation sharing their wisdom with the younger generation. 
If there is one band who is known for making most of "three chords," it is AC/DC. Goodbye June channels the spirit of Bon Scott with this rocker that also has elements of southern rock, and a hint of Van Halen with Sammy Hagar. Most notably, "Three Chords," has the sparse, soft melodic guitars that lie beneath the verse in 1986's "Best Of Both Worlds." The influences are obvious, but the song makes its own magic by blending them together in an interesting way.
[56] DEF LEPPARD – "Take What You Want"
Back in 1980, Def Leppard broke onto the hard rock scene with one of the most raw, garage rock sounds ever with their debut album, On Through The Night. A hint of polish followed with their sophomore effort, High 'n' Dry, and then even more with their first commercial radio sounding album, Pyromania. I was a big fan of the first three albums, and I appreciated 1987's Adrenalize for what it was at the time. It captured the decadence of the '80s.
If I'm being honest, the band veered too far off the hard rock course towards pop rock once the '90s arrived. It wasn't a bad break-up, but we just grew apart like a relationship that ran its course. Fast forward to 2022, and it was like rediscovering an old flame on social media. "Take What You Want" does not go all the way back to the band's raw energy of the first three albums, but it's also not as polished as Adrenalize. It falls somewhere between Pyromania and Adrenalize for me, which took me back in time to my high school days when they were one of my favorite bands. 
[57] CRASH MIDNIGHT – "Suicide Tattoo"
Though many bands have tapped into the classic rock sound, it's hard to think of many that have embraced the sleazy sex, drugs, and rock n' roll mentality of yesteryear. Crash Midnight is a band that has always quenched my thirst for the more dangerous, unapologetic debauchery of the rock and roll that I was raised on. Since Guns N' Roses, it feels like the only other band that has attempted to fill that void is Buckcherry. That is, until Crash Midnight came around. 
"Suicide Tattoo" feels like the lovechild of the raw early days of Def Leppard and the Appetite For Destruction days of GNR. There is an undeniable swagger to the song. It probably shouldn't come as any surprise that these Boston natives relocated to Las Vegas in recent years. Their sound and rock and roll attitude is a perfect fit in "Sin City."
[58] SKID ROW – "The Gang's All Here"
Skid Row feels like a band that has endured the test of time. In many ways they have, but their catalog is still relatively limited given their longevity. Since the first three albums with original frontman Sebastian Bach (which were all released between 1989 – 1995), they have only released three more albums including 2022's The Gang's All Here. This is the first album since Bach's departure that feels like a real Skid Row album (at least to me).
While the band had talented singers since they parted ways with Bach, none ever felt like it matched the chemistry of the early years. That is until Erik Grönwall joined the band. The Swedish singer (known mostly for his work with H.E.A.T.) seems to have finally brought back the bad boy swagger that Bach once brought to the band. The title track to the band's latest album doesn't sound like a throwback to the Bach days, but it does seem to be the next logical progression. Given that the original band is unlikely to ever reunite, this is about as good as it gets as an alternative.
[59] ANTI-FLAG – "The Fight Of Our Lives"
For punk fans, it's probably no surprise that Anti-Flag has been around for 35 years, but outside of the punk community, they have flown beneath the radar to some degree. The band is known for its left wing political activism, but "The Fight Of Our Lives" does address an important observation of American society today when it comes to "us vs. them." No matter where you lean, respectful political discourse has all but been eliminated. Many of us have been pushed from the center towards the left or the right because the difference is so extreme these days. 
From Spinefarm Records' website about the meaning of the song…
"We are truly in the fight of our lives. It's time to stand up and be counted. We are at a historic tipping point in human civilization where we can swing towards peace, empathy, optimism, justice, and human rights for all, or we can swing towards more of this ominous rising tide which has already brought so much inequality, pain and death."
[60] ASCENDIA – "This War"
Plato is credited with saying…"be kind, for everyone you meet is fighting a hard battle." As a society, we have become increasingly focused on external battles, but sometimes, the hardest battle is the one that is fought from within. Toronto's Ascendia has taken the opportunity with "This War" to address that very issue…
"'This War' is an anthem for those who struggle internally and their suffering. Everyone faces adversity and everyone has a battle going on deep within them," explains vocalist, Nick Sakal.    "For some of us it's from the moment we wake up in the morning till we put our heads on our pillows to sleep at night. It's a reminder to never give up and to always keep fighting."
This powerful, thought-provoking song hits hard with a poignant message, and musically with a wall of sound that fits perfectly on active rock radio. The rhythm section is particularly impressive throughout.
[61] RELEVANT SAINTS – "Guardian"
Hailing from Houston, TX, Relevant Saints is "a high-energy alternative rock band" that was formed in 2020. They spent two years writing and recording for their debut album. Though there is a familiarity to "Guardian," the band brings a unique approach to their songwriting. It's interesting that they classify themselves as alternative rock because the influences that struck me most were from more traditional hard rock/active rock bands such as Gemini Syndrome and Disturbed. The other band that came to mind was for one specific song, Queensryche's "Gonna Get Close To You."
Like the aforementioned bands, Relevant Saints is focused on delivering a powerful message in a meaningful way. On "Guardian," the band uses a dynamic approach to build tension and catch you by surprise. Many others would have taken the easy approach of just using growls and screams, but Relevant Saints use finesse and passion to get their point across. Kudos to them for not taking the path that is extremely well traveled these days. 
[62] SAINT ASONIA – "Over It"
It's not just the anguish in Adam Gontier's delivery that makes "Over It" hit home in such a visceral way. It's the harsh self-evaluation that is contained in the lyrics that is simultaneously sobering and cathartic. How many of us are living the life as adults that we dreamed of living as kids? The answer is probably far fewer than one would hope. There's a saying that goes "man plans, God laughs." Somewhere along the way the magic of youth is stripped away for most people, leaving them a shell of themselves focused more on surviving than thriving. It's what happens when life throws you a curveball or kicks you in the teeth with a harsh dose of reality. 
"Over It" is a painful dose of reality that is also cathartic because it lets listeners who feel the same way about their lot in life that they are not alone. That even rock stars who seem to have it all are living lives filled with regret and self-doubt.
[63] THREE DAYS GRACE – "So Called Life"
The Adam Gontier connection is not the only similarity between "So Called Life" and Saint Asonia's "Over It." Both songs tackle the disappointment that life provides for so many. Though Gontier is known for his angst, it's somewhat ironic that Three Days Grace's "So Called Life" is the song that seems angrier. Despite being melodic, there is an overpowering darkness to the song that channels your inner rage. 
Depression comes in different forms. Many bands in hard rock today address the subject with their songs. Some offer hope, others are more pessimistic. "So Called Life" definitely falls into the latter category. It is anger personified. Not just the internal need to have something to "take the edge off," but also a commentary on the human condition that has evolved into everyone being out for themselves. Whenever the lyrics "what a time to be alive, such a waste of fuckin' time" comes on, I literally sing the song through clenched teeth. Another time, another place, this song may not have hit so close to home. But in 2022, this song cut deep!
[64] GHOST – "Spillways"
The literal definition of a spillway is "a passage for surplus water from a dam." To be honest, I never heard the word until hearing "Spillways" this year. Of course, Ghost is not going to take the pedestrian literal meaning of a word. They are deeper than that!
Frontman Tobias Forge shared the meaning behind the song…
"This is an elegy for the darkness that most people have inside. When you have a dam, spillways are the run-offs so the dam won't overflow. That darkness inside us needs to find its way out."
Ghost always has an eerie way of delivering a message, but they also do so in a uniquely melodic way that relies heavily upon keyboards to set the tone. That is just one of many things that makes them stand out from most of today's hard rock.
[65] ICE NINE KILLS – "The Shower Scene" (acoustic)
Why choose the acoustic version of a song when there is a heavy version released in the same year? Two words…Spencer Charnas. Like Corey Taylor, Charnas has one of the best voices in rock today. Also like Taylor, I prefer his singing voice to screams. That is not to say that the original version of "The Shower Scene" has gratuitous screams. It doesn't. Given the horror subject matter, the screams are perfectly justified. But sometimes, for me, less is more. 
The acoustic version of "The Shower Scene" captures all of the emotion of the original, but does so more with Charnas' voice, which is haunting in its own right. I still recommend checking out the heavier version if you're just getting acquainted with Ice Nine Kills.
[66] THRESHOLD – "Haunted"
Threshold is a British progressive metal band whose career spans nearly three decades. For some reason, this band has flown beneath my radar. It's easy to see why in the early years when they were on a British label called Giant Electric Pea. But since the turn of the millennium, they have been on more well known labels. 
When you first start listening to "Haunted," you wouldn't necessarily think of the band as progressive because the song has a mainstream/active rock sound. But as you peel back the layers, you can hear the progressive foundation of the band. Threading the needle between progressive and mainstream has always been a bit of a challenge, even more so when you narrow it down to Active Rock, but Threshold has done it with "Haunted," a song that takes a common idiom and changes the meaning entirely.
[67] NORDIC UNION – "This Means War"
Two of my favorite European vocalists (Ronnie Atkins of Pretty Maids and Erik Martensson of Eclipse/W.E.T.) join forces on another arranged marriage by Serafino Perugino (Frontiers Music Srl). With vocalists like this, you would expect a sound that harkens back to the glory days of rock, but "This Means War" is more than that. Yes, there is a definite appreciation of the larger-than-life arena sound of the '80s where riffs were allowed to breathe for maximum impact. But there is also an active rock vibe, which is not very common with Frontiers bands. Most would have trouble finding a place on active rock radio in America due to the narrowcasting that goes on, but this song would fit right in.
There is a galloping rhythm that carries throughout the song that resembles the signature sound of Iron Maiden. The vocals are outstanding. The combination of the duo's voices creates a haunting effect. Though it feels like a battle cry, "This Means War" is also incredibly melodic and uplifting. Throw in the shredding guitars, and this song is a home run for all hard rock fans!
[68] SHALLOW SIDE – "The Worst Kind"
It only takes a couple of notes to realize that "The Worst Kind" is a Chris Dawson produced song. No matter what band he works with, he has developed a unique sound that is sonically booming with a catchy groove. The heaviness of the production creates a wall of sound, but there is always a dynamic twist within the confines of the song. 
With "The Worst Kind," that twist comes with the more mellow moments interspersed between punch-to-the-gut rhythms. In my opinion, Shallow Side has always been one of the more underrated bands with a range that isn't always found in active rock today. This song is tailor made for radio, as is most of Dawson's work. Yet somehow, it never feels like it's selling out just to get airplay.  
[69] 10 YEARS – "The Optimist"
10 Years will always hold a special place in my heart. I can still picture my toddler in her car seat screaming and clapping frantically whenever the chorus of "Fix Me" came on the radio. The years have passed, and she has moved away from rock entirely, but that visual is etched in my brain forever.
Fast forward a dozen years, and the band is still making music that resonates with me on a deeper level. This time, it's personal though. And it couldn't have come at a more appropriate time in my life…
Talking about the track, guitarist Brian Vodinh said the following: "The lyrics are about how life can beat you down, but you must keep searching for ways to push on and not let it make you too cynical. It's about the fight to keep a good perspective on things."
Having gone through what I have in 2022, I found this message to be incredibly prophetic.
[70] BLACK STAR RIDERS – "Riding Out The Storm"
Many established bands, even legendary ones, have gone through numerous lineup changes. This is especially true with the bands that have been around for several decades. Oftentimes, those bands have only one original member (sometimes none). Black Star Riders would have been totally justified to keep performing under the name Thin Lizzy, but they decided not to out of respect for Phil Lynott and the legacy that he created. Kudos to them for doing so, but had they kept the name, they would have done Lynott proud. 
Black Star Riders has consistently felt like the natural progression of what Thin Lizzy would have been if Lynott was still alive. Ricky Warwick's vocals have an eerie similarity to Lynott's, but it goes deeper than that. He also captures the charisma and charm of his fellow Irishman. Not all bands can make the same claim. I won't mention names, but there is one band with a replacement singer that technically has the same sound, but doesn't have the warmth of the original.
"Riding Out The Storm" is another great track from Black Star Riders, and one whose message hit home for me personally this past year.
[71] ABOUT US – "Our Fairyland"
Frontiers Music Srl has already conquered Europe, and now it looks like they have their sights set on doing the same in Asia, more specifically, India. First came Girish and the Chronicles, and now we have About Us, a band whose name sounds familiar because it appears on literally. millions of websites. Ironically, with the exception of a phone number and email address, there is nothing in the "About" section on the band's Facebook page. All I was able to find was a blurb on Bravewords (see below)…
"About Us hail from Nagaland, India, and more specifically from a district in the state of Nagaland called Wokha ('Land of Plenty'). The band first formed in the winter of 2019, with the members having spent the last 15 years or so in different bands and projects before coming together. Their collective musical taste runs the gamut from AOR, hard rock, metal, and more, with all of these varied influences reflected on their debut album."
"Our Fairyland" is notable mostly for the soaring vocals that are comparable to Loudness, Coheed & Cambria, and Steelheart.
[72] THE NEW ROSES – "My Kinda Crazy"
I discovered The New Roses through a Facebook ad, but the name had a familiar ring to it. That's probably because one of their songs ("Without A Trace") was featured on one of my favorite shows of all time, Sons Of Anarchy. One of the things that made the show so special was the incredible use of music to capture emotion and intensity.
These German hard rockers cite bands like Guns N' Roses, AC/DC, Aerosmith, Metallica, and The Black Crowes as influences, but there is one that comes to mind most when listening to "My Kinda Crazy"…Cheap Trick!
Though the song is about a toxic love affair that always ends up in catastrophe that you can't get enough of, it has an uplifting, fun vibe that is very much in line with the way Cheap Trick crafted some of its biggest hits.
[73] HELL IN THE CLUB – "Chainsaw Charlie (Murders In The New Morgue)"
I'm sure that other bands have covered W.A.S.P., but if they have, it's never come onto my radar. This is not an easy band to cover because they have such a distinct sound due to Blackie Lawless's voice. If you're going to swing, you might as well swing for the fences and cover one of the band's most challenging songs. This is a personal favorite of mine off of what is certainly the most underrated concept album in rock history, maybe one of the most underrated albums overall.
Though Hell In The Club stays fairly true to the original, their style adds a new level of energy with a hint of glam to the mix. It's reminiscent of the On Through The Night days of Def Leppard. Plucking a song off of a concept album is risky because there is no context to the storyline, but Hell In The Club did an admirable job of tackling an incredible tune.
[74] CRYSTAL BALL (f. RONNIE ROMERO) – "Call Of The Wild"
This is a comparison that most people probably won't think of when listening to "Call Of The Wild" by Crystal Ball (featuring Ronnie Romero), but to me, I hear the bombastic theatricality of the work of Jim Steinman. You don't necessarily get this vibe right away though. What immediately hits you is a Deep Purple vibe, which tracks since Romero gained his most recognition when he joined Ritchie Blackmore in Rainbow. Given that Steinman is my favorite songwriter and Rainbow was my favorite band growing up, "Call Of The Wild" checks a lot of the boxes that I look for in a song. It wasn't until I listened to the song with headphones that I started to fully appreciate all of the nuanced layers that the vocals provide. I definitely recommend using headphones to get the full experience with this track.
[75] H.E.A.T. – "Hollywood"
After a 10-year absence from the band, original frontman Kenny Leckremo returned in 2020 to replace Erik Grönwall (who departed to take over the helm with Skid Row). H.E.A.T. released their second album with Leckremo in 2022, entitled Force Majeure. If you didn't know better, you would swear that these Swedish hard rockers were a product of the Sunset Strip of the '80s, so it's apropos that they are writing about the city that defined hard rock and heavy metal in the '80s.
"Hollywood" is not a tribute to the decadence and debauchery of the glory days. Though melodic and uplifting, the song is a sobering look at the darker side of the "city of the angels."
[76] LANDFALL – "Heroes Are Forever"
In these chaotic and divisive times, the concept of anyone's hero being forever seemed like a bit of a fantasy. Heroes have a way of disappointing their admirers. But in the case of Brazilian rockers, Landfall, they have immortalized one of their heroes with a beautiful tribute song. It is dedicated to Mr. Big drummer Pat Torpey, who passed away in 2018 due to complications from Parkinson's Disease. 
Musically, "Heroes Are Forever" is what you would expect from a melodic AOR song. What makes "Heroes Are Forever" so special is the way that Mr. Big lyrics are cleverly woven into the fabric of the song. If you're a Mr. Big fan, you will truly appreciate the homage to a drummer who died way before his time.
[77] T3NORS – "April Rain"
The Three Tenors were an operatic singing trio termed as a supergroup consisting of (Italian) Luciano Pavarotti, and (Spaniards) Plácido Domingo and José Carreras. Leave it to Frontiers Records to take the concept and put a hard rock spin on it.
From Frontiers Music Srl website…
"The story behind this record actually dates back quite a few years as Frontiers has been wanting to do a 'three tenors' type of record for quite some time. Given the extremely high level of AOR vocal talent that the label has worked with in the past and continues to work with today, the idea never really lost steam. The issue was always finding the right pairing of three singers and the timing for the individual singers to have availability in their schedules to record. With the onset of the global pandemic in 2020, everyone's availability, for better or for worse, became more flexible and the idea started to become reality.
Pairing Robbie (LaBlanc), Toby (Hitchcock), and Kent (Hilli) together seemed an ideal team up and all three were enthusiastic about the idea when approached to participate. The rest, as they say, is history.
Kent Hilli is the newest of the three singers on the scene, but has quickly made an impact with the albums he has released with his main band Perfect Plan, as well as being the new frontman for GIANT, solo material, and guest appearances with Restless Spirits, the melodic rock project from Lords Of Black guitarist Tony Hernando.
Toby Hitchcock is an American singer known for his solo albums as well as his work with the esteemed melodic rock genius Jim Peterik in Pride Of Lions.
Robbie LaBlanc is an American singer, guitarist, and songwriter known for his work with Blanc Faces, Find Me, a project with The Murder Of My Sweet drummer/producer Daniel Flores, East Temple Avenue, and more."
"April Rain" is a beautifully melodic song with big vocal harmonies that were once the foundation of hard rock music. 
[78] SEVENTH DAY SLUMBER – "Can't Say Sorry Enough"
Seventh Day Slumber is a Christian rock band from Dallas, TX with a history that dates back to 1996. Though the band has had numerous releases, I didn't discover them until this year. To be honest, I'm not exactly sure how I came across "Can't Say Sorry Enough," but I was instantly drawn to this emotive, melancholic ballad.
When searching for the inspiration for the song, I found this from the band…
"Blaise and I wrote 'Can't Say Sorry Enough' with Disciple's Josiah Prince. It's so fitting for this record because some of it reflects what I went through with alcohol. My wife had to see that. She kept me alive through that difficult time, and she never turned her back on me. She still loved me, laid hands on me, and prayed for me.
After 22 years of marriage and all that I've done, she still wants to be close to me. I know that God heard her prayers: He healed me. Even though I know that she forgives me, I feel like I can't say sorry enough for what I did.
When Josiah asked what I wanted to write about, I remembered the pain I had put her through. Josiah, Blaise, and I wrote this song for my wife in about an hour. To me, it's honestly one of the most important songs I've ever written."
Even before learning the inspiration behind the song, I felt the genuine sorrow in the messaging and delivery. It's the kind of song that probably doesn't have a home on today's version of rock radio, but it certainly deserves to.
[79] NO RESOLVE – "Hallelujah"
It's not being hyperbolic to say that "Hallelujah" is one of the greatest songs ever written. Ever since Jeff Buckley covered this Leonard Cohen classic, it has been covered countless times by all kinds of artists (including a handful of rock artists). Truth be told, at this point, most covers are not covering the original, but Buckley's timeless version of the song.
I've yet to hear any artist do a bad job of covering "Hallelujah," but many of them feel interchangeable. That is not the case with No Resolve's inspired version. While the band stays true to the Buckley melody, they are the first band that I've heard do something totally different with the song. There's a moodiness to the beginning that is more haunting than others, but the real shining moment comes when frontman Oscar James Pegorraro goes into a higher register with a rock edge as the song progresses. I've been wondering for a while why no rock band has taken this approach. Thankfully, one has now!
[80] VENUS 5 – "Nothing But A Heartache"
Back in 1975, five female rockers got together to form The Runaways. The band's existence was relatively short-lived, but two of the members, Lita Ford and Joan Jett, went on to become bonafide rock stars. Fast forward nearly five decades, and another all-female, hard rock quintet has emerged on the scene courtesy of (stop me if you've heard this before) Serafino Perugino and Frontiers Music Srl.
Unlike The Runaways, who all hailed from Los Angeles, Perugino brought these five metal singers together from all different countries: Sweden, Italy, Albania, Serbia, and Slovenia. You wouldn't expect this kind of experiment to yield such incredible chemistry, but it absolutely has. 
If you just listened to "Nothing But A Heartache," you would think that these five singers have been together for years. Infectiously melodic, with beautiful harmonies, this song is one that is sure to get stuck in your head long after the music has stopped playing. 
[81] PLUSH – "Better Off Alone"
Plush is a quartet of young, female rockers (age 18-22) with a mature sound that is beyond their years. Their journey is just beginning, but they are already cutting through the clutter with their passion and drive. Not only have they reached the Billboard Top 40 with their singles, but they have also toured with some of the biggest names in rock: Kiss, Alice In Chains, Evanescence, Slash featuring Myles Kennedy and The Conspirators, and Daughtry (to name a few). The Daughtry connection is particularly notable since both he and Plush singer Moriah Formica started their road to fame on singing competition shows. 
"Better Off Alone" follows the same pattern as "You Better Run" by one of the legendary female rockers of all-time, Pat Benatar. The verses have a tone-setting groove, which builds until the catchy hook of the chorus. 
[82] FIRE FROM THE GODS – "Thousand Lifetimes"
Songs written about an individual's mother are not uncommon, "Thousand Lifetimes" takes a different approach in that it pays homage to strong mothers in general. Meaningful lyrics come from seeing life through a certain lens. In the case of frontman AJ Channer, it was his personal upbringing that inspired this emotional song…  
"I came from a broken home and society has a way of turning its back on people like me. I watched my mum along with some very strong women in my life sacrifice everything to keep their families above water. That strength helped build me into the man I am today."
Musically, "Thousand Lifetimes" has a soulful, heartfelt sound that is in the same wheelhouse as Sevendust's songs that are more groove oriented. You can tell that Channer is delivering this message from a vulnerable place due to the passion in his voice.
[83] LANDSDOWNE – "Halo"
Lansdowne built their fan base on the road, but the path that they chose is unique. They performed hundreds of shows across the U.S. and were chosen by Armed Forces Entertainment to perform for two weeks in Afghanistan, Kuwait and Kurdistan, which led to a partnership with the USO to play on American military bases from coast to coast.
It's not surprising that Landsdowne cites Sevendust as one of their influences. "Halo" captures the raw emotion that LaJon Witherspoon displays with every vocal performance, and the intensity of the music that helps make you feel the message of the song. In this case, the lyrics cut deep. Here is the meaning of the song as shared on the band's label's website…
"'Halo' is about letting someone go, whether it's the end of a relationship or a life, the song is a devastating look inside how we process loss. The hurt, anger, confusion, all the questions we've asked that are left unanswered and all the questions we have that we'll never get the chance to ask. But it's also a memorial to the impact that people that we've lost have had on our lives. They may be physically gone but they never truly leave us.
Halo is a devastating look inside of the reality of loss and learning how to come to terms with the aftermath.
We have all lost people. Some of us are in the middle of losing people right now and going through that process can be unbearable. Halo is about that full range of emotions, from anger to despair, confusion, and acceptance. It's about knowing that the people that we love never really leave us."
[84] FROM ASHES TO NEW – "Heartache"
There is a Victor Hugo quote that has been shortened and credited to Winston Churchill, but that has been proven false. The full quote is…
"You have enemies? Why, it is the story of every man who has done a great deed or created a new idea. It is the cloud which thunders around everything that shines. Fame must have enemies, as light must have gnats. Do not bother yourself about it; disdain. Keep your mind serene as you keep your life clear."
You're probably wondering what this has to do with From Ashes To New's "Heartache." It doesn't have a direct correlation, but the song comes from the perspective of someone who refuses to be broken, or willing to succumb to the haters. When you've been through hell, when you've come from a "dark place," you don't let the opinions of others weigh you down. 
"Heartache" is a powerful song with a hard rock edge blended with the take-no-prisoners rap sensibility of Eminem's "Lose Yourself." 
[85] ALPHAMEGA – "Have You Ever Seen The Rain?"
In 1971, Creedence Clearwater Revival released "Have You Ever Seen The Rain?" According to CCR's John Fogerty, it's a song about the impending breakup of the band. It displays the juxtaposition of the sun (the band's success), and the rain (the problems that tore them apart). 
Over five decades later, Alphamega has released an inspired cover version of the song. The original features the gritty voice of Fogerty that gives it a bit of an edge, but nothing quite as dark as what Alphamega has created. There is a somber moodiness to the song at the outset, which eventually evolves into something that feels like a perfect fit on active rock radio. It's dark, heavy, and attention-grabbing. 
[86] EMPTY TRAIL – "I Don't Want The Truth"
The grunge movement of the '90s was relatively short lived in the scheme of things, but it left a lasting impact. Personally speaking, I embraced early grunge, but eventually built up some resentment towards it when it helped to usher out the decadent hard rock that helped shape my youth. As the saying goes, "all good things must come to an end."
Rick Lambert and Empty Trail have brilliantly captured the dark angst of early grunge with "I Don't Want The Truth." It may seem ironic that the song gives me feelings of nostalgia because of my feelings about the grunge movement, but it's the messaging of the song that really hit home. 
I truly miss the days when we were allowed to live in blissful ignorance if we chose. Before the internet and the rise of social media, I lived that life. I read the sports section and the comics in the newspapers, but never dwelled on the news of the day. These days, you would have to virtually unplug from society to avoid all of the divisiveness and despair in the world. What I also long for are the days when "the truth" was not something that was open for debate depending on the source of the information. 
[87] ROYAL BLISS – "Black Rhino"
Royal Bliss is one of the few bands in hard rock today that is not afraid to push the envelope and expand their sound. While many others tailor their sound towards radio, Royal Bliss does not fall into that trap. It makes for a more interesting journey for sure. 
"Black Rhino" is based off of the actual black rhino (which is an endangered species). 
According to frontman Neal Middleton, there is a deeper meaning to the song beyond the actual black rhino…
"It's also a song about survival for everybody else out there, where I felt the lyrics went from just being about the band to being about the whole world. The first line is 'there's a light at the end of the tunnel, and I feel us coming out' — where it's like, we're going to be OK, we've just got to unite and not blame everybody else for our problems. You know, don't blame the other side. Whatever your side may be, we've got to come together."
The messaging of this melodic rocker (with a dissonant guitar riff that feels like it represents us as a society today) is noble, even if few are unlikely to heed the advice in these divisive times.
[88] AUTOGRAPH – "This Ain't The Place I Wanna Be"
In 2022, Autograph released the 10th album of their extremely fragmented career. They released their first three albums between 1984 and 1987. Touring with some of the biggest bands at the time, they eventually broke up as many bands of that era did. There was a reunion late in 2013 with some of the original members. Little by little, each of them has been replaced, which explains why "This Ain't The Place I Wanna Be" has a totally different sound than songs like the band's biggest hit, "Turn Up The Radio." The glam sound of yesteryear has been replaced by a more classic blues rock sound, giving the band a more timeless sound. 
[89] DYNAZTY – "Power Of Now"
One of the most poignant songs of the year came from Swedish power metallers, Dynazty, with "Power Of Now." Many of us spend so much time worrying about the future and basking in the nostalgia of the way that things used to be that we forget to truly live in the moment. None of us is promised tomorrow, and try as we might, we can never bring back the past because it's behind us. It's easy to get caught up in this vicious cycle as life happens. Only when a jolt of reality hits you between the eyes do many of us take this sage advice to heart. Despite the fact that I experienced such a jolt this year, it is still far too easy to forget to embrace the present as life happens. 
[90] ICONIC – "Nowhere To Run"
Iconic's "Nowhere To Run" has a distinct Whitesnake feel to it, which makes sense given that the band features guitarist extraordinaire Joel Hoekstra. Nathan James has proven himself to be one of the best blues rock vocalists around today. Though he has more of a gritty, metal edge to his voice, there is a noticeable similarity to the early days of David Coverdale with Whitesnake and his work with Deep Purple. The rhythm section of Marco Mendoza (The Dead Daisies), and Tommy Aldridge (Whitesnake, Ozzy Osbourne, and more) is the engine that drives this song with non-stop energy, in a similar vein as "Children Of The Night" from Whitesnake's eponymous 1987 release.
[91] RUST N' RAGE – "Prisoner"
Finland's Rust N' Rage released their third album in 2022 on Frontiers Music Srl. It was the first record on their new label. The band, founded in 2010, is heavily influenced by the '80s hard rock style of bands like Guns N' Roses, Judas Priest. Motley Crue, and Dokken. 
Rust n' Rage have been starting to make a name for themselves in their home country of Finland with energetic live shows and anthemic songwriting. Though they have strong influences, they pride themselves on standing on their own with their songwriting.
If you had to choose one of their influences for "Prisoner," the one that immediately comes to mind is Dokken (but with a twist). Stylistically, there are similarities to Dokken, but the underlying keyboards give the song a Journey "Separate Ways" vibe. Lyrically, the message is impactful. For a few years, I think that we all felt like prisoners to a worldwide pandemic. On a personal level, we all have things that make us feel like prisoners at times when we have a loss of control. 
[92] ART OF DYING – "Ready For A Good Time"
While vocalist Jonny Hetherington is the only member left from the original incarnation of Art Of Dying, two other members (Cale Gontier and Travis Stanley) have been in the band since 2008. Throughout their career, Art Of Dying has released a mixture of full length studio albums and EPs. In 2022, the band released an EP entitled Ready For A Good Time.
The title track is a great escape from the worries of the world. With an arena rock sound, you could easily see "Ready For A Good Time" being used during live and televised sporting events. It also feels like a song that you would blast on a Friday afternoon after work as you get ready for the weekend, much like Loverboy's "Working For The Weekend."
There is no shortage of songs with serious messaging, but there is a shortage of pure, fun, rock and roll songs like this. 
[93] CROOKED TEETH – "Promise"
Crooked Teeth is a California alternative trio with pop punk influences like Jimmy Eat World, Blink-182, Third Eye Blind, and Green Day. What gives them a bit more of an angsty edge is some of their more unlikely influences such as Slipknot and Deftones. You don't usually hear all of the aforementioned bands mentioned in the same sentence as influences, and it comes across in the band's music. 
"Promise" is so catchy that you find yourself singing the chorus in your head long after you stop listening. It has the uplifting vibe that you would expect from a pop punk song, but also a hint of pure darkness as it progresses to unabashed rage. 
[94] KHYMERA – "Firestarter"
Dennis Ward is mostly known for being the bassist and producer for the German heavy metal band, Pink Cream 69. But he clearly has more to offer than just the roles that oftentimes go underappreciated. With Khymera, Ward also handles the keyboards and lead vocals. 
As you listen to "Firestarter," you can't help but wonder why Ward hasn't been a lead singer all along. His voice is right up there with other European melodic hard rock bands. Of course, when this band was originally conceived, it featured Steve Walsh of Kansas on vocals, so you can understand why Ward may have taken a back seat at that point as Walsh is one of the greatest singers of all time. It was only a project back then, and didn't become a band until Ward entered the fold. If "Firestarter" is an indication of what's to come, then the future looks bright for Khymera.
[95] ENEMY EYES – "Here We Are"
It's hard to believe that 30 years have passed since I first discovered the brilliant vocals of Johnny Gioeli with Hardline. Back then, he and his brother Joey were not the headliners of the band that they formed together. That honor went to the legendary Neal Schon. Schon may have helped put Gioeli on the map, but their association was short-lived. The rest of his lengthy career has been achieved through his own hard work and talent. 
"Here We Are" is Gioeli's 100th official release as a recording artist after decades of multi-platinum, gold, and critically acclaimed albums. Though he is extremely successful and well known in Europe, Gioeli is hardly a household name in America. I'd venture to say that many people only know "Hot Cherie" in America, but his legacy speaks for itself. This is another outstanding melodic hard rock song by Gioeli, which comes as no surprise. Nor does the fact that it features Alessandro Del Vecchio, or that it's on Frontiers Music Srl. 
[96] GIANT – "Never Die Young"
Giant is mostly known for one song, but it is arguably the greatest power ballad in hard rock history. If not, then "I'll See You In My Dreams" is right up there with the best of them. That song came out in 1989, just before the grunge wave was about to take over the rock music scene. Who knows what would have come of the band had they started their career a few years earlier? Regardless, their place in rock history is secure because of one great song. 
Their releases have been sporadic at best, and only a few original members remain, but they seem to have new life with Kent Hilli at the helm. 
"Never Die Young" is an energetic, fun, melodic rocker that takes you back in time to the days when bands like Dokken ruled the airwaves. Hilli's soaring vocals shine throughout, and John Roth's guitars wail with delight. 
[97] ONE DESIRE – "Never Gonna Stop"
Formed a decade ago in Finland, One Desire is a band that knows how to appeal to the senses of hard rock music fans who loved the '80s. Dripping with beautiful vocal harmonies and shredding guitars, this uplifting keyboard-laden song gets your blood pumping and the dopamine flowing. "Never Gonna Stop" is pure joy from the first note to the last. It's the kind of song that feels like it comes from another era, but for many people (like me) it is a timeless piece of music that will never go out of style. If you're a fan of European hard rock and heavy metal, you'll definitely appreciate what One Desire has to offer. 
[98] THE GEORGIA THUNDERBOLTS – "Livin' In Muddy Water"
It's been a long time since the heyday of southern rock, but that doesn't mean that the genre isn't still producing great acts. It's just that they are fewer and further between than they once were, and there is less of an outlet for their music on radio. The one exception to that rule (at least in a meaningful way) seems to be Black Stone Cherry. It's no surprise that these southern rockers have toured with Black Stone Cherry and Blackberry Smoke (the two biggest bands in the genre at the moment). 
"Livin' In Muddy Water" is more than just a southern rock song though. There is a blues rock feel that adds a level of intrigue to the song.  
Talking about the song TJ Lyle has stated…
"The lyrics were written from my own experiences. Everyone has their bad days and hardships. The Bolts want to get the message out to those who sometimes feel helpless and let them know there's always someone there to talk to and they will never be alone." 
[99] STORM FORCE – "Uninvited"
Storm Force is a Canadian hard rock band with roots firmly planted in classic rock. Hailing from Niagara Falls, the band's debut album is "a rich blend of rock influences spanning Triumph, UFO, Thin Lizzy, Foreigner, and more." One of the best ways for a newer band to rise above the din and get noticed is to make a cover song their own. If you're a Canadian band, it makes sense to cover one of the country's most well known artists if possible. That's exactly what Storm Force did with their version of Alanis Morrisette's hit, "Uninvited." The original already had a bittersweet, melancholic vibe to it, but Storm Force took it to another level with their cover. 
[100] TENACIOUS D – "The Who Medley"
In recent years, I have always reserved the final spot on this annual list for a more well known artist. This is done for two reasons. The first is to finish on a high note, but more importantly, it's to show that song rankings are less important than making the list in the first place. This is especially true since this list is designed to be listened to as if it were a nearly 7-hour radio station. The Spotify playlist is meant to flow together as much as possible. 
It feels appropriate to end this turbulent year with a 3 minute 13 second wild ride that is "The Who Medley" by Tenacious D. It's really a Tommy medley more than The Who since all of the songs come from the legendary soundtrack, but I digress. Jack Black's delivery, filled with unique nuances, is front on center as the band rips through snippets of "Pinball Wizard," "There's A Doctor," "Go To The Mirror," and "See Me, Feel Me / Listening To You." Tenacious D seamlessly intertwines these songs to sound like one cohesive, joyous musical journey. After the year that I've had, I can think of no better way to end this list. 
***BONUS TRACK***
At the risk of sounding like an infomercial…"BUT WAIT! THERE'S MORE!" Since Hard Rock Daddy only features one song per artist on this annual list, I decided to add a bonus track to the Spotify playlist of The Top 100 Hard Rock Songs of 2022. It is an inspired cover version of a big classic rock hit from 1983, done brilliantly by one of the female fronted bands (of which there are many this year) on the list. Check it out! m/
RELATED ARTICLES:
TOP HARD ROCK SONGS OF 2021
TOP HARD ROCK SONGS OF 2020
TOP HARD ROCK SONGS OF 2019
TOP HARD ROCK SONGS OF 2018
TOP HARD ROCK SONGS OF 2017
TOP HARD ROCK SONGS OF 2016
TOP HARD ROCK SONGS OF 2015
TOP HARD ROCK SONGS OF 2014
TOP HARD ROCK SONGS OF 2013
| | |
| --- | --- |
| ARTIST | SONG TITLE |
| Halestorm | The Steeple |
| Dorothy | Rest In Peace |
| Eva Under Fire (Spencer Charnas) | Blow |
| Dirty Honey | Another Last Time |
| Alter Bridge | Pawns & Kings |
| Shinedown | Daylight |
| Edge Of Forever | The Other Side Of Pain |
| Motionless In White | Masterpiece |
| Slipknot | The Dying Song (Time To Sing) |
| Metallica | Lux AEterna |
| The Winery Dogs | Xanadu |
| The Retaliators | The Retaliators Theme |
| Queen | Face It Alone |
| Slash f. Myles Kennedy | April Fool |
| Foo Fighters | Love Dies Young |
| The Offspring | Behind Your Walls |
| Ozzy Osbourne | Mr. Darkness |
| Scorpions | Seventh Sun |
| Aranda (Vernon Reid) | Pay For |
| alltheprettythings | Teenage Lines |
| Nothing More | Tired Of Wining |
| Corey Taylor | On The Dark Side |
| Any Given Sin | Still Sinking |
| Disturbed (Ann Wilson) | Don't Tell Me |
| The Pretty Reckless | 25 (acoustic) |
| Sammy Hagar & The Circle | Father Time |
| Nickelback | Those Days |
| Steel Panther | 1987 |
| Tuk Smith & The Restless Hearts | Ballad Of A Misspent Youth |
| Steelheart | We All Die Young (2022) |
| Ugly Kid Joe | Lola |
| Crobot | Golden |
| Rise Against | Talking To Ourselves |
| Papa Roach | No Apologies |
| Volbeat | Temple of Ekur |
| Stratovarius | Glory Days |
| Sabaton | Stormtroopers |
| Hollywood Undead | City Of The Dead |
| Black Veil Brides | Saviour II |
| Asking Alexandria (Within Temptation) | Faded Out |
| Weapons Of Anew | Break The Ties |
| The Dead Daisies | Not Human |
| Kris Barras Band | My Parade |
| Audio Reign | Shining Light |
| Coheed and Cambria | The Liars Club |
| BLACK SWAN | Generation Mind |
| Generation Radio | Lights Go Out In Paradise |
| Chez Kane | (The Things We Do) When We're Young |
| Uriah Heep | Save Me Tonight |
| Avantasia (Jorn) | I Tame The Storm |
| JORN | Over The Horizon Radar |
| Girish And The Chronicles | Clearing The Blur |
| Dream Theater | Transcending Time |
| Ronnie Atkins | Make It Count |
| Goodbye June | Three Chords |
| Def Leppard | Take What You Want |
| Crash Midnight | Suicide Tattoo |
| Skid Row | The Gang's All Here |
| Anti-Flag | The Fight Of Our Lives |
| Ascendia | This War |
| Relevant Saints | Guardian |
| Saint Asonia | Over It |
| Three Days Grace | So Called Life |
| Ghost | Spillways |
| Ice Nine Kills | The Shower Scene (acoustic) |
| Threshold | Haunted |
| Nordic Union | This Means War |
| Shallow Side | The Worst Kind |
| 10 Years | The Optimist |
| Black Star Riders | Riding Out The Storm |
| About Us | Our Fairyland |
| The New Roses | My Kinda Crazy |
| Hell In The Club | Chainsaw Charlie (Murders In The New Morgue) |
| Crystal Ball (Ronnie Romero) | Call Of The Wild |
| H.E.A.T. | Hollywood |
| Landfall | Heroes Are Forever |
| T3nors | April Rain |
| Seventh Day Slumber | Can't Say Sorry Enough |
| No Resolve | Hallelujah |
| Venus 5 | Nothing But A Heartache |
| Plush | Better Off Alone |
| Fire From The Gods | Thousand Lifetimes |
| Landsdowne | Halo |
| FROM ASHES TO NEW | HEARTACHE |
| Alphamega | Have You Ever Seen The Rain |
| Empty Trail | I Don't Want The Truth |
| Royal Bliss | Black Rhino |
| Autograph | This Ain't The Place I Wanna Be |
| Dynazty | Power Of Now |
| ICONIC | Nowhere To Run |
| Rust n' Rage | Prisoner |
| Art Of Dying | Ready For A Good Time |
| Crooked Teeth | Promise |
| Khymera | Firestarter |
| Enemy Eyes | Here We Are |
| Giant | Never Die Young |
| One Desire | Never Gonna Stop |
| The Georgia Thunderbolts | Livin' In Muddy Water |
| Storm Force | Uninvited |
| TENACIOUS D | The Who Medley |